INTRODUCTORY NOTE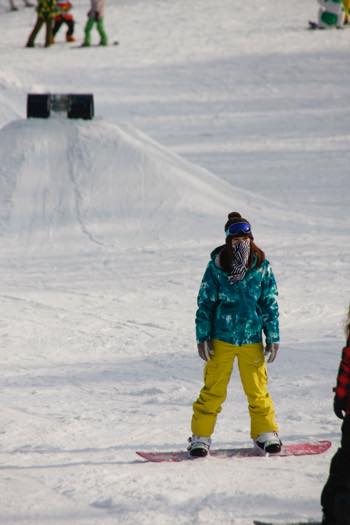 Hachikita Highlands is a 2.5 hour drive north from Osaka. Located in Hyonosen-Ushiroyama-Nagisan Quasi-national Park and San'in Kaigan Global Geopark, it is rich in natural beauty. The area around the highlands is notable for its considerable snowfall which, in winter, can accumulate up to 2 meters. For this reason, you can see many rare animals and plants that are impossible to find in the center of Osaka.

Hachikita Highlands is known to the people of Kansai (Osaka and its surrounding cities) as a winter ski resort area. Although people might only associate Hokkaido or Nagano with the word "snow" or "skiing", Hachikita is rapidly becoming one of the most famous ski resorts in Kansai. Additionally, the summer season offers a vast array of outdoor activities for you to partake in, such as trekking, hiking, and so on.

It's worthwhile to come to Hachikita and enjoy the natural beauty of Japan before or after sightseeing in Kyoto, Osaka, and Nara. We are looking forward to welcoming you in Hachikita.
SKI RESORT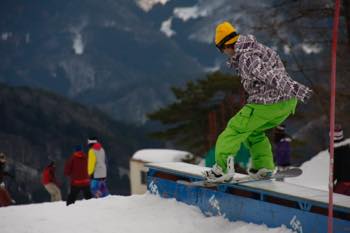 Of all countries in the world that receive snowfall, Japan has the lowest latitude, with the exception of other mountainous countries. The latitude of Hachikita Highlands is about 35 degrees north. It is lower than that of Lisbon, Portugal (at 38 degrees) and Madrid, Spain (at 39 degrees); which receives no snowfall. Surprisingly, Japan has more than 570 ski resorts, a fact that isn't well known overseas. The advantage of Japanese ski resorts is that you can enjoy skiing on real powder snow because snow falls at a maximum of 50.80 centimeters a night.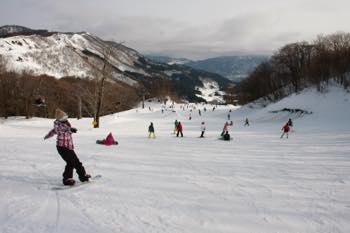 What distinguishes Hachikita`s ski run is its scale; with a total length of 3 kilometers and a vertical drop of 650 meters from the top of Mt. Hachibuse (1221m) down to the tourist area, it is rapidly becoming one of the most famous runs in Western Japan. The ski run is also rich in variation, from easy to steep slopes, bumps, deep snow, etc. Both beginners and seasoned professionals can enjoy a day skiing in Hachikita.

There are 10 ski lifts in total, 2 of which are high-speed four-seaters. Annually, the ski runs are open from the 3rd week of December to the 2nd week of April.

Skis and other equipment are readily available from any of the local ski rental shops.

Apart from skiing, you can enjoy snowshoe hiking, cross-country skiing, making Kamakuras (igloo-like snow shelters), having snowball fights, and so on.
SMALL TALK 1
The reason for Japan`s surprising amount of snowfall is due to its location, surroundings, and geographic features. Japan lies to the east of the Eurasian Continent, between which is the Japanese Sea. Along the central part of the Japanese Islands, there is a1000-3000 meter mountain range, forming a geographic spine. In winter, cold winds blow from the northeastern part of Siberia, and crossing over the Sea of Japan, absorb the water vapors in the air. When the winds hit the mountains and go up, the water vapors change into snow. Incidentally, the northern part of West Japan is called the San'in District. "San" means mountain and "in" means shadow. This name is supposedly derived from the phenomenon in where the clouds over the mountains, containing snow crystals, block any sunshine.
NEIGHBOURING TOURIST SPOTS
An hour`s drive from Hachikita Highlands can take you to popular tourist spots like 'Tottori Sand Dune' (west), 'Kinosaki Hot Spring' (northeast), 'Kounotori Sato Kouen' or 'Hyogo Prefectural Homeland for the Oriental White Stork' (east), 'Takeda Castle' (southeast), and so on.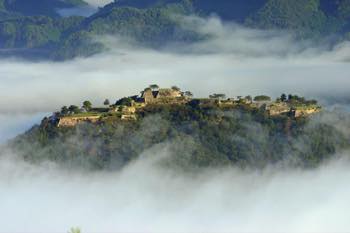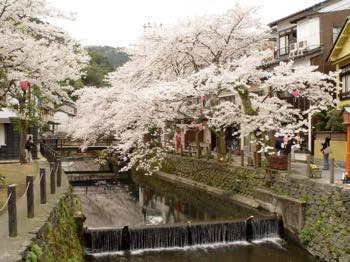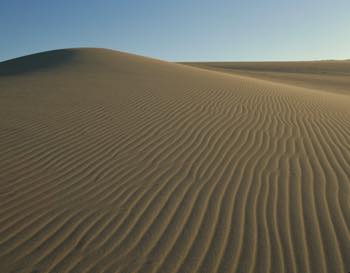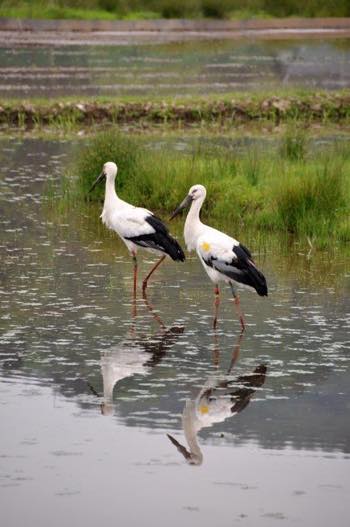 OTHER MEANS OF TRANSPORTATION
Besides cars, you can use public transportation such as the bus system or Japan Railways, to navigate in and around Hachikita.
ACCOMMODATIONS
Hachikita Highlands has about 20 accommodations, most of which are Japanese-style inns. Traditionally, it is recommended to stay for two days and one night with two meals (dinner & breakfast) included. Recently, a B&B (bed & breakfast) style is also available at some inns. At the Japanese-style inns, the bathing area is shared among all guests. However,the toilet facilities are seperated for female and males guests.Accommodations great for foreign tourists are noted below. Please contact the hotel or inn for more details.
SMALL TALK 2
Kami-Town, where Hachikita Highlands is located, is the home of Tajima cattle, the breeding cattle of Kobe beef. Kobe beef is one of the best Wagyu beefs in Japan. Recently, with the rise in popularity of Tajima cattle, it is quickly becoming famous overseas and is increasingly being exported. Tajima beef dishes, like 'Sukiyaki' and 'Shabu-shabu,' are popular among tourists from abroad. However, Kami-Town has two other specialty ingredients: Kasumi crabs (red snow crabs) and Muraoka rice. Kasumi crabs are caught in the coastal waters of the Japanese Sea and are known as a high-grade ingredient in Tokyo and in Kansai. Muraoka rice has won a gold prize for five straight years in the 'National Contest on Rice Taste Evaluation'. Luckily, you don`t have to go to Kobe or Tokyo to taste these high grade ingredients. Hachikita`s local cuisine is full of these specialties, which you can enjoy at the restaurants in town and at the inns.
ACTIVITIES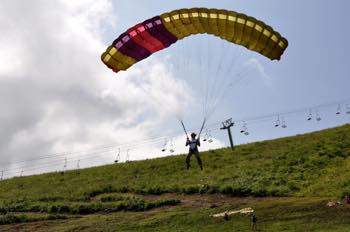 Hachikita Highlands provides you with not only skiing and snowboarding but also other seasonal and traditional activities. From spring to autumn, you can enjoy trekking, treeing, paragliding, catching fish, and more. You can also experience some traditional Japanese activities, such as bamboo-ware crafting.
SIGHTSEEING SPOTS IN TOWN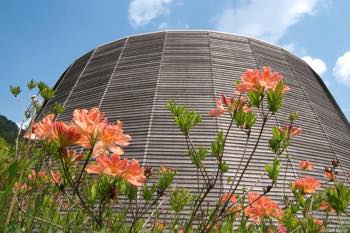 Ki-No-Dendo Wood Museum
The Ki-No-Dendo Wood Museum, made entirely of wood, was designed and supervised by the world-famous architect Tadao Ando. All exhibits are free of charge.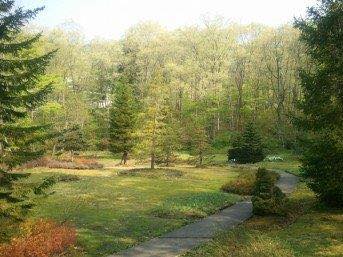 Tajima-Kogen Botanical Garden
Unique and rare vegetation can be seen in the Tajima-Kogen Botanical Garden. After enjoying the sights of the botanical garden, you can rest and have lunch in its nearby restaurant.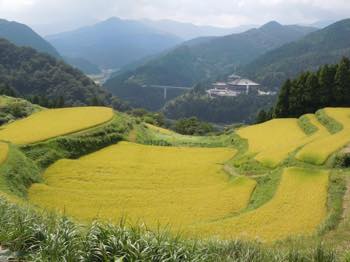 San'in Kaigan Global Geopark
As a part of the San'in Kaigan Global Geopark, a member of Global Geoparks Network (GGN), Kami-Town has a lot of unique landscapes.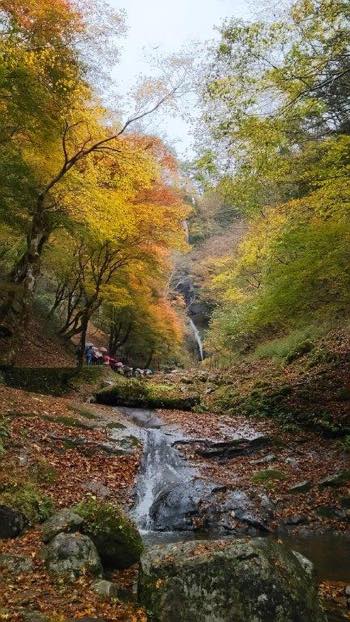 Saruo-Daki Waterfall
Saruo-Daki Waterfall, which is shaped like a monkey's tail, is rated as one of Japan's Top 100 Waterfalls. The waterfall consists of two parts: 'Ichinotaki' (upper part) and 'Ninotaki' (lower part), with a drop of about 60 meters. You can appreciate the seasonal changes of Japanese nature in its scenery.
Torokawa-Keikoku Valley
Torokawa-Keikoku Valley is the only place in Hyogo Prefecture that is included in the 100 Mysterious Lands of Japan. Wild, natural beauty can be seen along the streams, and in the innermost area is the Torokawa-Daki Waterfall, with a drop of 57 meters.